Your Phone Tray UWP app just got updated.
Version 2.0 brings few UI changes, some improvements and a breaking change.
Improvements
New Context Menu
To improve the app, I updated the tray icon context menu to show that it should be running on Startup (see Task Manager Start up)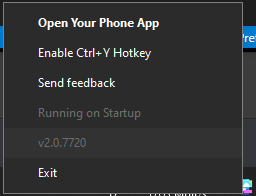 Shortcut Key
You can also see a new menu item Enable Ctrl+Y Hotkey. If enabled, the app silently picks up the Ctrl+Y shortcut to open Your Phone app. It can be toggled if the shortcut key messes up some of your programs.
---
Breaking change
Microsoft's Your Phone app has been updated several times that launching it directly to the photos section shows a blank UI. For the meantime, all shortcuts to open the app will direct to messages.
Download
Download the app here for Windows 10